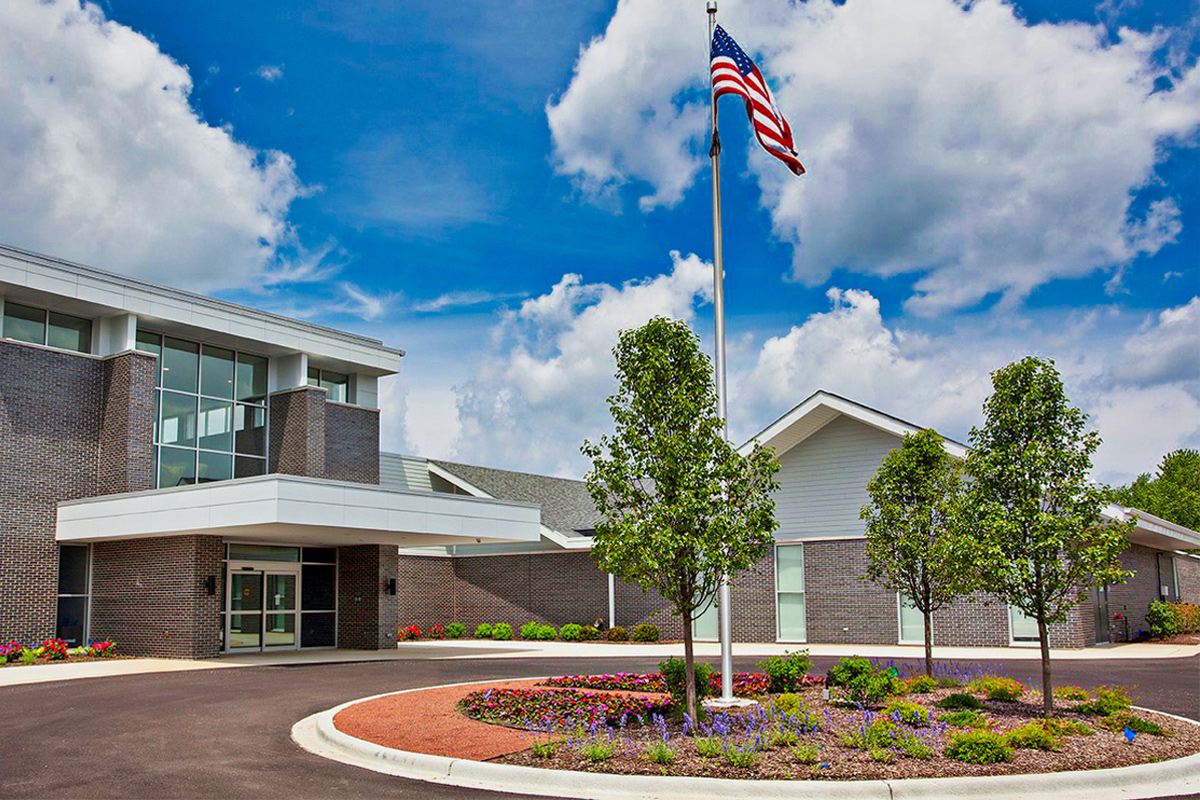 By Alex Spanko |
Developing new post-acute and long-term care infrastructure during normal times isn't always easy — in fact, for one Illinois company, the phased opening of three new skilled nursing facilities this year represented the culmination of more than five years of work.
But as COVID-19 continues to reveal the fatal shortcomings of outdated nursing home design, calls for newer facilities with private rooms and a higher level of care have already grown louder, and the team at Innovative Health believes they've made the right bet on what seniors and hospital partners will want in a post-pandemic world.
"Time will tell our success, but I think the model is so different that people are really willing to give us an opportunity to show them how different it is," Innovative Health chief strategy officer Charles Ross told SNN.
The company is two-thirds of the way through opening a trio of new skilled nursing facilities in the western Chicago suburbs of Mundelein, Lisle, and Aurora, Ill., all branded under the Thrive name. The former two are currently open and operational, with the third set to open later this year.
The Mundelein project, Thrive of Lake County, replaced a county-run facility that Innovative Health initially applied to take over on an interim basis around six years ago. The other two, Thrive of Lisle and Thrive of Fox Valley, represent completely new developments, with a total price tag of about $80 million for all three.
Thrive of Lake County's status as a replacement for an existing nursing home helped to ease the project through Illinois's certificate of need (CON) process; like many other states, Illinois limits the number of skilled nursing beds that can legally operate in an attempt to prevent oversaturation and, in theory, maintain a high standard of quality.
In this case, the new facility clocks in at 185 beds, compared to the old property's 224.
"Essentially, we were de-bedding the market by 39 beds, so the CON board obviously understood what we were trying to accomplish," Innovative Health principal owner Brad Haber said.
That doesn't mean the road was easy: Even with that advantage, it took the the Innovative Health team a year to secure the CON approval on the replacement building, while facing challenges on the CONs for the remaining two facilities.
The Lisle facility also saw delays with receiving formal certification for Medicare and Medicaid residents from the state of Illinois, despite serving residents covered under private insurance plans, according to Brian Cloch, principal of Innovative Health partner Transitional Care Management.
Thrive's experience is indicative of the inherent challenges in designing and building new skilled nursing inventory in many markets. Aside from CON rules, which often do not allow the creation of new nursing home beds without contraction somewhere else, investors aren't always willing to place a bet on new construction in a space perceived as particularly susceptible to abrupt changes in government reimbursements.
Some companies have seen preliminary success with the high-end "medical resort" model, with real estate investment trusts (REITs) and other investors putting up tens of millions to construct luxurious properties that cater to younger seniors who want a hotel-like experience while recovering from surgeries and other acute events.
But on the whole, investment in new nursing homes has been limited, contributing to a landscape where operators in the space generally have the oldest physical plants in the greater senior care spectrum. The average nursing home still features shared rooms and narrow corridors that consumers and their families don't prefer — and which serve as particularly virulent breeding grounds for COVID-19.
In Massachusetts, for instance, state health officials have noted that rules requiring new nursing facilities to have single-occupancy rooms have been on the books since the early 2000s — but because so many older facilities were grandfathered in through waivers, a lack of substantial new construction means that the state still has a primarily old stock of nursing home real estate.
The pandemic has thus brought nursing home design into the greater public consciousness, with the Green House model of small-home design emerging as a particular area of focus for big-picture thinkers in long-term care.
But Thrive's strategy of lower bed counts and ground-up design could also position the buildings for life amid a pandemic with no end in sight.
"What makes us different is that we have made the commitment to the design of the building and to the care delivery model," Cloch said.
The Thrive buildings have all the trappings of the higher-end medical resorts that have spurred investor excitement, such as a kitchen with a professional pizza oven and lobbies that look more like boutique hotels than nursing homes.
But the luxury design touches belie a wider strategy. The Mundelein campus, for instance, features three separate buildings for each of its main care models — short-term rehab, long-term care, and skilled memory care — connected in the center by a shared kitchen. Each of the buildings has its own separate entrance, dining area, therapy gym, and other amenities, according to Cloch.
Unlike some other new developments, the Thrive facility in Mundelein also accepts Medicaid, allowing residents to remain at the facility long-term if they end up needing more than the 100 days of Medicare-covered post-acute care, Cloch noted.
The other two properties, which will both feature 60 beds and serve only post-acute residents, were designed with the potential for reconfiguration in mind, Ross aid.
"The way the different centers are designed if we should ever need to separate suites because of COVID or clinical programming or really any other reason … we've got multiple units that can be closed off and work independently from each other," Ross said. "So it gives us a lot of flexibility."
The Thrive team has focused on showing the buildings' worth to hospital partners, which have been forced to reconsider their own post-acute strategies amid a sharp drop in elective surgeries and patient concern about going to an institutional setting after witnessing tens of thousands of COVID-19 deaths in American nursing homes.
While Ross acknowledged that health systems in Thrive's markets have accelerated their push to send more people directly home, he noted that they still recognize the need for institutional care for some portion of the population — and that providing something different, with private rooms and bathroom facilities, can help set operators apart.
"They're still finding there's a core population that just isn't going to do well at home, and it's going to need transitional care, and need our products," Ross said.
READ ORIGINALLY PUBLISHED STORY HERE